We understand the importance of meeting deadlines in the world of Money Transmitter License Sponsorship. That's why we have created a sample timeline that we strive to follow for the benefit of our valued clients.
Click on the image below for a larger version.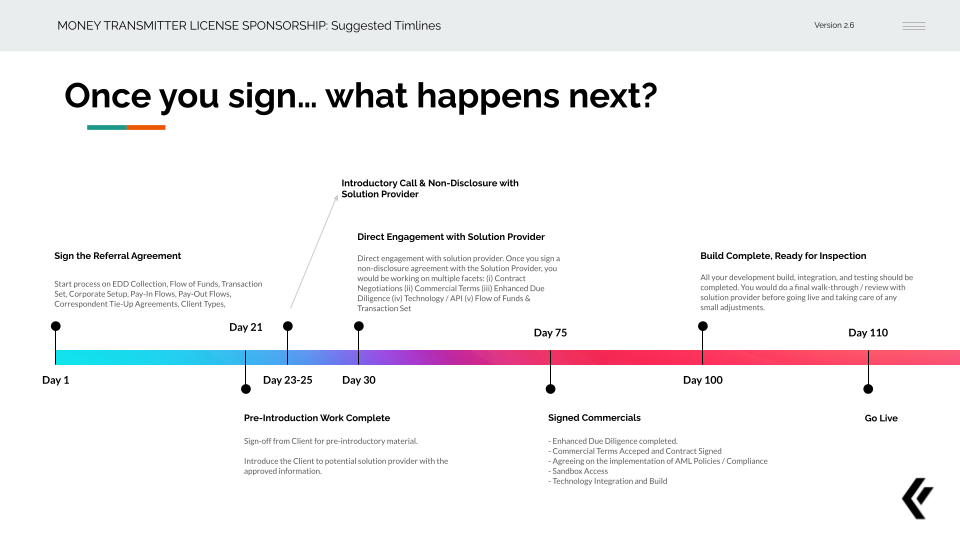 Download a PDF of this image: Money Transmitter License Sponsorship Timelines
Day 1: We begin by signing the Referral Agreement and initiating the EDD Collection process, corporate setup, pay-in, and pay-out flows, correspondent tie-up agreements, and client types.
Day 21: After receiving sign-off from the client for the pre-introductory material, we introduce them to potential solution providers with approved information.
Days 23-25: We conduct an introductory call with the solution provider while maintaining non-disclosure.
Day 30: We directly engage with the solution provider and work on multiple facets such as contract negotiations, commercial terms, enhanced due diligence, technology/API, and flow of funds and transaction set.
Day 75: We sign the commercial terms after completing enhanced due diligence and agreeing on AML policies/compliance, sandbox access, and technology integration/build.
By now, the following activities would have been completed:
Enhanced Due Diligence
Acceptance of Commercial Terms and Signing of Contract
Agreement on AML Policies/Compliance
Sandbox Access
Technology Integration and Build
Day 100: All development build, integration, and testing are complete. We conduct a final walk-through/review with the solution provider before going live.
Day 110: We go live and launch the project.
Please note that while we aim to follow this timeline, we understand that flexibility may be required, and the timeline may be subject to +/- three weeks. Our team is dedicated to ensuring a successful outcome for our clients, and we will work closely with you to accommodate any changes that may arise.
—
This page was last updated on May 31, 2023.
–