I never knew about Alfred Escher and learned about him quite by accident. I happened to be reading a great post about how the Knights Templar invented modern banking on Chris Skinner's blog when I discovered an article about Alfred Escher.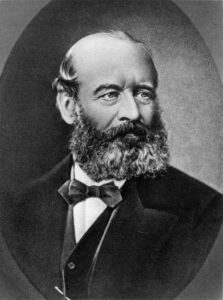 Born Johann Heinrich Alfred Escher vom Glas on the 20th of February, 1819, Alfred Escher was a renowned and prominent figure both in the economic and political life of Switzerland in the 19th century. The pragmatic entrepreneur took advantage of the dynamic and robust environment that existed during the new state federal's founding years. He spearheaded the development of various infrastructures that have greatly contributed to the economic advancement of current day Switzerland.
While we all remember him (yes, here is the spoiler), as the founder of Credit Suisse, I believe Mr. Escher would much rather be known for what he called his passion – the railway network in Switzerland that he established (still working like clockwork today).
Born into the Escher vom Glas family in Zurich, Escher's family line was an established and influential dynasty that had given the country several prominent politicians.
The family line's reputation had however been damaged by scandals that had revolved around Alfred's immediate forebears. His great-grandfather was at the center of a scandal for fathering a child out of wedlock while his grandfather went bankrupt, almost bringing Zurich to financial ruin in the process. Despite the trouble that rocked the family line, his father was able to make a new fortune through trading in North America and speculative land deals. In many ways, were it not for North America, they would be erased for sure.
For a part of his childhood, Alfred was home taught by a number of tutors that include Oswald Heer and Alexander Schweizer. Between the years 1835 and 1837, Alfred attended Zurich Obergymnasium High School. After his high school graduation, Escher set his eyes on studying law and enrolled at the University of Zurich. He spent two semesters, 1838/39 abroad at the Universities of Berlin and Born. The stays were, however, marked by serious bouts of illness. In 1837 during his studies, he actively became involved with the Zofingia Student Society. In 1839/40, he became president of the Zurich section of the society. In September of 1840, he rose to become the society's overall president. Alfred acquired his doctorate Summa Cum Laude from Zurich University after the dissertation he did on Roman Law. Following the completion of his studies, Escher temporarily moved to Paris in order to work on making the right career choices.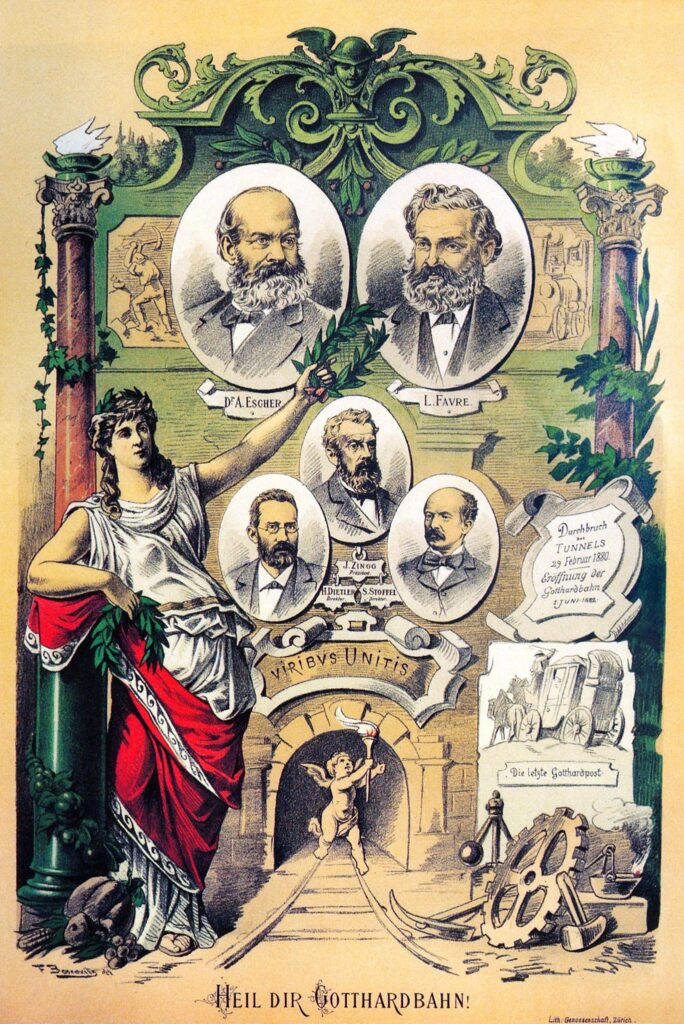 In the summer of 1843, Alfred returned to Zurich where he got actively committed to various academic projects. His return to Switzerland marked the beginning of his political career. He was a radical-liberal that actively took part and contributed to the country's political affairs. Together with former student friends, Alfred was a member of Academic Political Society where they would meet to discuss the political affairs of the nation. August 1884 saw the 25-year-old Alfred get elected to the Zurich's Cantonal Parliament. The position paved way for him to rise politically, playing a major role in the country's political debates and being on the frontline of the anti-Jesuit camp.
In 1845 and 1846, Alfred managed to get into contact with high ranking Swiss politicians during the Federal Council of Cantonal Representatives in which he participated as a third envoy. He got appointed Zurich's Chief Administrator in 1847 and in summer of the following year, he was elected to the National Council. On the 7th of November, 1848, Alfred was appointed vice president of the council. He held his seat on the National Council for 34 years until the time of his death.
Alfred Escher is credited with a number of things, one of them being shaping and developing what is modern Switzerland. Seeing that Switzerland was lagging behind in modernization, Alfred spearheaded the development of modern railway projects. While there was an agreement on the need for and importance of developing a railway network, there were disagreements on how they were to be built. In the year 1852, Alfred fronted a railway law that was largely drafted according to his conceptions which required railway operations including construction to be left to private companies. Competing companies were set up and over a very short period of time, Switzerland was ahead in railway technology and quickly closing the railway infrastructure gap with neighboring countries.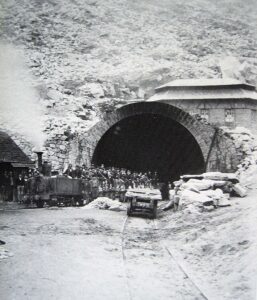 Construction of railways required large amounts of capital which posed a problem to the rail companies as there were no institutions in the country to provide the huge amounts of money involved. Seeing the impact foreign dependence had on the economy and state of affairs of the country, Escher saw it fit to establish a proper financial institution. He successfully established Schweizerische Kreditanstalt currently known as Credit Suisse.
Some of his achievements summarized:
      Became a Zurich counselor and deputy minister at the age of 26.

      Zurich government councilor at the age of 29.

      Was voted 'highest Swiss' four times, a feat no other politician achieved in the 19th and 20th century.

      Served as Zurich Cantonal Council for 38 years and 34 years at National Council.

      Sat in about 200 federal and Zurich commissions, of which he presided over a large part.

      Founded a series of major institutions: the Nordostbahn Company (1852/53), the Eidgenössisches Polytechnikum (1854/55, now the ETH Zurich), Schweizerische Kreditanstalt (1856, now Credit Suisse), and the Schweizerische Lebensversicherungs- und Rentenanstalt (1857, now Swiss Life).