Public Advisory for Money Transfer Licensing in the UK
The Financial Conduct Authority (FCA) in the UK has implemented a stringent and restrictive approach to licensing, resulting in significant delays and a sharp decrease in approval rates. Entrepreneurs seeking licenses must carefully consider the challenges and requirements before proceeding. Read more here.
Unlike Payment Institution, E-Money license is solely regulated by FCA, while this allows for fewer requirements for approval by the governing body, it also means that it is less protected than a conventional banking license. 
As a licensed EMI, you are allowed to transact both, accept/remit electronic money. Electronic money is the digital equivalent of cash stored on an electronic device or at a remote server.
An EMI license encompasses all the benefits of a PI license, along with the possibility of retaining the funds of their clients for a more extended period of time and offering products of stored value.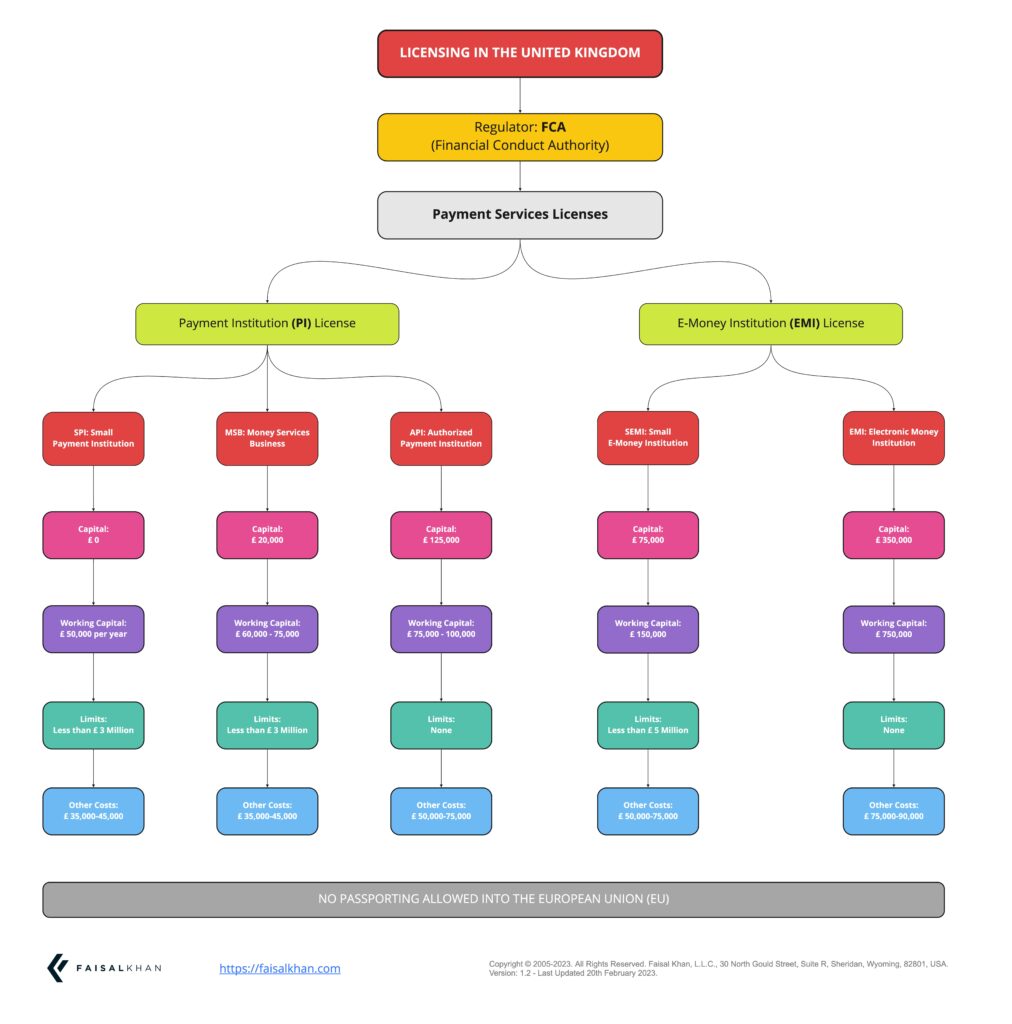 Download this as a PDF: Licensing in the UK by FCA for SPI API and EMI
It too has a two-tier regulatory structure :
Small Electronic Money Institution (SEMI) License
Just like its counterpart (SPI) a Small EMI license is easier to apply for and requires no initial capital. You are however restricted in keeping an average monthly transaction turnover of payment services to less than 3 million EUR, and Electronic money transactions to under 5 million EUR. As a SEMI license holder, you are also restricted to conduct payment services within the UK only, passporting of payment services is not allowed.
Electronic Money Institution (EMI) License
As a fully licensed EMI, you are allowed to transact both, accept/remit electronic money. It requires an initial capital of 350,000 EUR which covers all spectrum of payment services without additional fees. Your business can benefit from passporting its payment services, across borders and throughout EEA countries.
As an EMI license holder, you can hold client funds for an extended time period, under individual client-opened IBAN accounts.
How to Apply for a EMI License in the UK?
We can certainly assist you to apply for an EMI License in the UK. Here's how we can help you apply for a new EMI license in the UK.
—
This page was last updated on June 6, 2023.
–